A Michigan midwife is accused of negligence for the death of a newborn. A malpractice attorney plans to file a lawsuit against the midwife. The case pertains to a baby born on February 8, 2018. He died three days later. The cause of death was allegedly brain injuries resulting from a delivery gone wrong at home.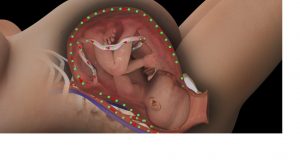 The attorney described the midwife as "stubborn" and "incompetent." He also argued that the woman had no nursing or medical credentials and that the mother should have been transferred to a hospital. Instead of being transferred, the baby suffered brain injuries as a result of the botched delivery and died after three days. The attorney also noted that the baby was healthy, but that the delivery resulted in complications.
The certified midwife delivered the baby at home in the frank breech position. This position involves the baby's buttocks facing the birth canal and its legs positioned straight up in front of its body. The feet are positioned closer to the head. Normally, a baby moves into the delivery position a few weeks prior to birth. However, in this case, the baby failed to do so. While babies born in this position may be healthy, there can be an increased risk for birth injuries than in normal births.