Nike has just signed their first professional athlete with cerebral palsy, cross-country runner Justin Gallegos. They signed the University of Oregon junior to a three-year contract.  A moving video posted on YouTube shows the exact moment that he had received the news, which was on World Cerebral Palsy Day. The announcement caught Justin by surprise, as he was finishing up a race.  It was a great moment for people with cerebral palsy and their families and, obviously, a nice piece of marketing for Nike.  I feel like I'm being a little manipulated by this story and I still have an urge to run out and buy some Nikes.
Justin's Story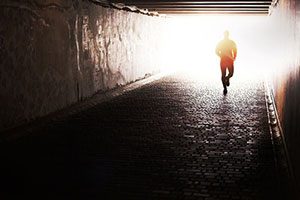 Throughout his young life, Gallegos overcame significant adversity because of his condition. He learned to walk at 2 years old, with the help of a walker. However, physical therapy helped improve his stride well enough that he did not need it by the time he reached Kindergarten. Gallegos initially wanted to join his high school's football team, but his father Brent persuaded him to join the cross-country team instead. Brent and Justin spoke to his high school's cross-country coaches Darren James and Larry David about possibly joining the team. Brent assured both coaches that their son could run three miles needed for a cross-country race, and Justin would have a strong work ethic.
Joining the cross-country team would be one of the first steps into what would become his deep passion for running. He struggled at first, falling a few times within the first week. Justin would have cuts, scrapes, and bruises. Brent would even provide kneepads for his son, to prevent further scrapes on his knees. He expressed concerns about whether this would work out for his son. Despite all this, Justin never gave up and kept doing what he had to do for the team. He adjusted to his new routine, the hours, and the training. He noticed that he improved as time went by.
While Justin was not the fastest person on the track, he could reach the personal goals he set for himself. During freshman year, he set a goal to break thirty minutes in cross-country, which he did in his first race. Later that school year, Justin finished at eight minutes thirty seconds in the mile. By junior year, he improved to a little over seven minutes. His hard work paid off.
Out-of-Reach Dream Becomes a Reality
He dreamed of running for the University of Oregon. The university's running culture inspired him to attend. His former assistant coach while in high school and runners Gallegos admires were also all former Ducks. However, Gallegos almost did not make it to the University of Oregon because of how expensive it would have been. As a California resident, he would have to pay out-of-state tuition that would make it more expensive than attending a state school closer to home. He would have had to spend about $50,000 a year, just to attend UO.
Fortunately for Justin, he found a way to get some of his tuition paid for. The media attention he received in high school through ESPN and FloTrack drew the attention of John Truax, who works at Nike's running department. Truax worked with UO's administration to help Justin raise enough funds. He helped Justin set up a GoFundMe page, which raised over $10,000. This was enough to pay for his first quarter of college.
Upon enrolling at UO, he immediately joined its running club. While attending practice was not mandatory, Justin spent his first three weeks of his first term showing up every day at practice. He was determined to become the best runner he could be while at UO.
During his first track meet as a member of UO's track club, he lost his shoe within the first 50 meters of the race. Even though he stopped to pick his shoe up, he did not put it back on his foot. Instead, he continued to run while holding it. Gallego was determined to win the race, knowing that he had little time to finish it. He finally put his shoe on, after his teammates yelled at him to stop running in order to do so. Justin finished last in the race, but he inspired people who saw him that day.
As a junior on UO's club team, Justin runs 5k on track, 8k in cross-country, and half marathons on roads. He reached his personal best of 2 hours, 3 minutes while running at the Eugene Half Marathon. He aspires to break two hours by the time he is a senior.
Nike's three-year sponsorship of Gallegos fulfills his long-term goal to become a sponsored athlete. He also aspires to represent the U.S. at the Paralympics, specifically in the 1,500 meters race. Justin is an inspiration to us all, showing that one can achieve things they thought they could not.
Putting This in Context
Look, there is no denying that Justin is an outlier.  Most cerebral palsy victims our lawyers see will never be able to walk, much less run in a race. No amount of dedication, love, perseverance, or anything else will make that child ever walk.  (The only hope is medical advancement which we need to do a better job of funding.)  But Justin's story gives us a chance to hope and dream of things that might seem impossible for victims who have drawn some of the worst possible cards a child can draw.  To me, this is what Justin Gallegos teaches us.