Serratia marcescens outbreaks are rare. When they happen, it is a big deal. Here are the eight things you want to know about these infections that often end in medical malpractice cases.
What is Serratia marcescens?
Serratia marcescens is a nosocomial opportunistic pathogen. This bacterial pathogen has been isolated from several human clinical specimens and some non-human sources. It is naturally occurring in soil and water. At room temperature, it produces a red pigment. Serratia marcescens has a history of causing infections in both children and adults. It is transmitted through direct contact.
What health issues can Serratia marcescens exposure cause?
Exposure to Serratia marcescens may cause urinary and respiratory infections, endocarditis, osteomyelitis, eye infections, wound infections, and meningitis.
How is it related to hospital-acquired infections?
This pathogen has caused a number of hospital outbreaks, but they are not exclusively associated with hospital-acquired infections. Serratia marcescens can be found nearly anywhere, including in food and kitchen items.
How can you treat Serratia?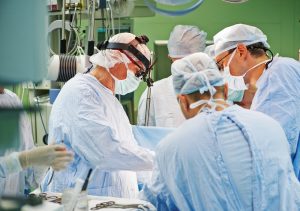 Serratia marcescens is resistant to different types of antibiotics. They include ampicillin, macrolides, and first-generation cephalosporins. Serratia-related infections can be treated with an aminoglycoside and an antipseudomonal beta-lactam. Amikacin can also treat most Serratia strains. However, there is increasing resistance to gentamicin and tobramycin.
Operation Sea-Spray
Serratia marcescens has been previously used in a military experiment to test the possibility of a biological attack on U.S. soil. In September 1950, the U.S. Navy conducted a secret experiment known as "Operation Sea-Spray." They wanted to test whether enemy agents could launch a biological attack on a major port city from miles away. From a small military vessel, they sprayed a cloud of Serratia marcescens around the San Francisco Bay Area for six days. They used it because they thought Serratia marcescens did not cause harmful health effects.
Their results showed that hundreds of people throughout various Bay Area communities were exposed to Serratia. Eleven people experienced infections that were difficult to treat. Two months later, in November, a 75-year-old man died. He had succumbed to a Serratia infection that attacked his heart valve. Neither the medics nor the man's family knew about the Army experiment until 26 years later. There was no evidence that the Army had warned health authorities before conducting the experiment.
Recent multi-state Serratia infection outbreak
In May 2018, the FDA and CDC started investigating an outbreak of bloodstream infections in Tennessee, Colorado, Minnesota, and Ohio. The CDC confirmed 14 cases of bloodstream infections linked to both heparin and saline syringes. Becton Dickinson and Co (BD) distributed these contaminated syringes. The same strain of Serratia marcescens bacterium had caused each of these fourteen different bloodstream infection cases.
These infections occurred in children who were receiving intravenous drugs through a catheter or a central line. Thankfully, there were no deaths were reported. Health officials tested BD products but found that none of BD's products tested positive of Serratia. However, Dr. Kiran Mayi Perkins of the CDC notes that if there is contamination, it is "a probably a very low amount." This makes it very difficult to test for the presence of Serratia marcescens in BD products.
A criminal case in the Northern District of Alabama
In June 2016, Alabama pharmacists David Allen and William Timothy Rogers were sentenced to 10 and 12 months in prison for distributing Serratia-contaminated drugs. They were both involved in the now-defunct pharmacy Advanced Specialty Pharmacy, which did business as Meds IV. Allen was the former pharmacist-in-charge, while Rogers was the former Meds IV president. Both defendants pleaded guilty to two misdemeanor violations of the federal Food, Drug, and Cosmetic Act (FDCA). The judge also sentenced them to a year of supervised release following the completion of their sentences and a $5,000 fine.
Meds IV had manufactured the intravenous drug, Total Parenteral Nutrition (TPN), in an unsanitary manner. TPN is a form of IV used for patients who cannot or should not receive nutrition through eating. According to U.S. Attorney Joyce White Vance for the Northern District of Alabama, "Meds IV provided intravenous nutrition to patients, without taking legally required precautions in preparation of its product." Around February 2011, Meds IV created their own amino acid solution and mixed it with other ingredients to form TPN. The amino acids used contained Serratia marcescens. It was also prepared, packed, and held under unsanitary conditions.
Meds IV failed to provide sanitary conditions that prevented the bacteria from spreading. A March 2011 CDC inspection found the same strain of Serratia from the outbreak throughout the Meds IV facility. They found it in a water faucet, an open container of amino acid powder, and on the surface of mixing equipment used to make TPN.
This failure to provide a sanitary environment to manufacture TPN had serious consequences. Nine patients at various hospitals around Birmingham, Alabama-area died from complications resulting from exposure to Serratia. Several other patients also developed bloodstream infections but survived. All these patients had received IV manufactured and distributed by Meds IV.